Maxi skirts have made their way back it the market and are proving to be every woman's must have. The maxi skirt brings out a feminine and classy and simple look. It is also important to know the best occasion for you to rock your maxi dress. It could be for a brunch with the girls, a day at the beach, a relaxed weekend outing, a festival and if worn and paired well it could make to a wedding! Maxi skirts are comfortable as they give you enough breathing space and they keep you covered at the same time. Below are tips on how to wear a maxi skirt and still maintain an elegant and sophisticated look.
1) Crop top
---
A maxi skirt covers your body from the waist downwards. Pairing it with a beautiful crop top bring out a fancy look. You could wear your skirt a bit higher to show a little skin, or you could wear it a bit low to show your belly. It all depends on what works for you. This look could make for a festival or a relaxed weekend. You could also add a pair of sunglasses and a simple slim bag.
2) Shoes
---
Once you choose to wear a maxi skirt you should know that it goes well with almost every shoe type. All you need to consider is the occasion and how to pair up the shoes. The only type of shoes that don't go well with the maxi dress are the ankle boots. Pair your maxi skirt with the right top and it could easily go with a pair of sandals, heels, ankle boots and even converse. All you need to figure out is a style that works well for you and with that, choosing a pair of shoes won't be as hard.
3) Waistcoats
---
A body hugging maxi skirt will do with a nice waistcoat. This look accentuates your curves and brings out a simple but sophisticated look. Waistcoats also go well with free size maxi dresses. Get the colors right and your outfit will look incredible as soon as you add on a nice pair of flat shoes. If you throw on a waist length leather jacket, you can pair it with some nice flats or converse shoes.
4) Denim shirt
---
The denim craze is still on, and the good thing about the denim is that it works well with most outfits including the maxi skirt. It could be a short sleeved denim or a long sleeved all you have to do is make it work. The denim shirt will go well with a body hugging or a free-sized maxi dress. Pairing the denim with a maxi skirt works well with any type of shoes, the flats, sandals, heels but best of all with converse.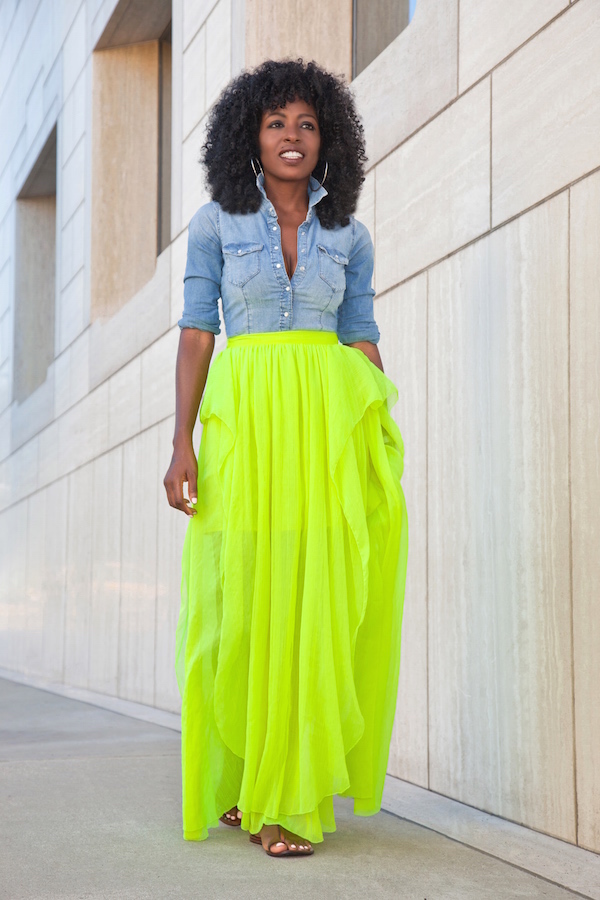 5) Accessories
---
The maxi skirt allows you to experiment with your accessories. Go chunky with the neck pieces and earrings and you'll be sure to bring out a great look. Get statement earrings, neck pieces, bracelets and bangles without forgetting the sunglasses. However, it's important to be careful while mixing up the accessories be sure to have one statement piece that screams out than the rest. Having all the accessories screaming will end up giving you a confused and busy look.
6) Hats
---
The more reason you should have a maxi skirt if you are a hats lover. Adding a hat to a well paired maxi skirt gives you a complete look. Get a nice hat that goes well with your outfit and occasion. A big sun hat works wonders to your outfit if you are planning to go for an outdoor wedding or a festival. The hat will keep you protected from the scorching sun while giving you a great look. Fedora hats also work best for a maxi skirt look. Get a hat that compliments you and your outfit and you'll be good to go.